Introducing The New
Boston Volvo Cars
We are putting the finishing touches on the most unique and updated Volvo facility in America. Here is a sneak peek of what we've accomplished! Stay tuned for our official opening date.
You may have noticed that our Allston/Brighton neighborhood in Boston is slowly being transformed.
There is a brand new development called Boston Landing rising up, with a new New Balance World Headquarters and the Boston Bruins practice rink at the Warrior Ice Arena in place. These will soon be followed by a Celtics Practice Facility, a Track and Field Arena, offices, shops, and a commuter rail station. Our neighbors at Stop & Shop are redeveloping their property as well. Couple this with old neighborhood mainstays such as WGBH, the Stockyard, Wolfers, Martys, etc...and you can see why our neck of the woods is becoming one of the hottest new neighborhoods in Boston.
And as our surroundings transform, so too does our brand. Volvo is setting a new standard for refined luxury with the award-winning new XC90 and S90 models, with many more in the pipeline such as the upcoming new V90 wagon.

Since combining our 2 Boston-area Volvo stores into one mega Volvo dealership in Allston over 25 years ago, our home at 75 N Beacon Street has served us and our customers well. Formerly a Mack Truck facility, the size and scope of the building and grounds let us grow and evolve and take care of the long line of devoted Volvo customers who came to shop or to get their Volvo serviced. While this place holds many memories, our facility is nearing the end of its functional life; in other words, we are showing our age!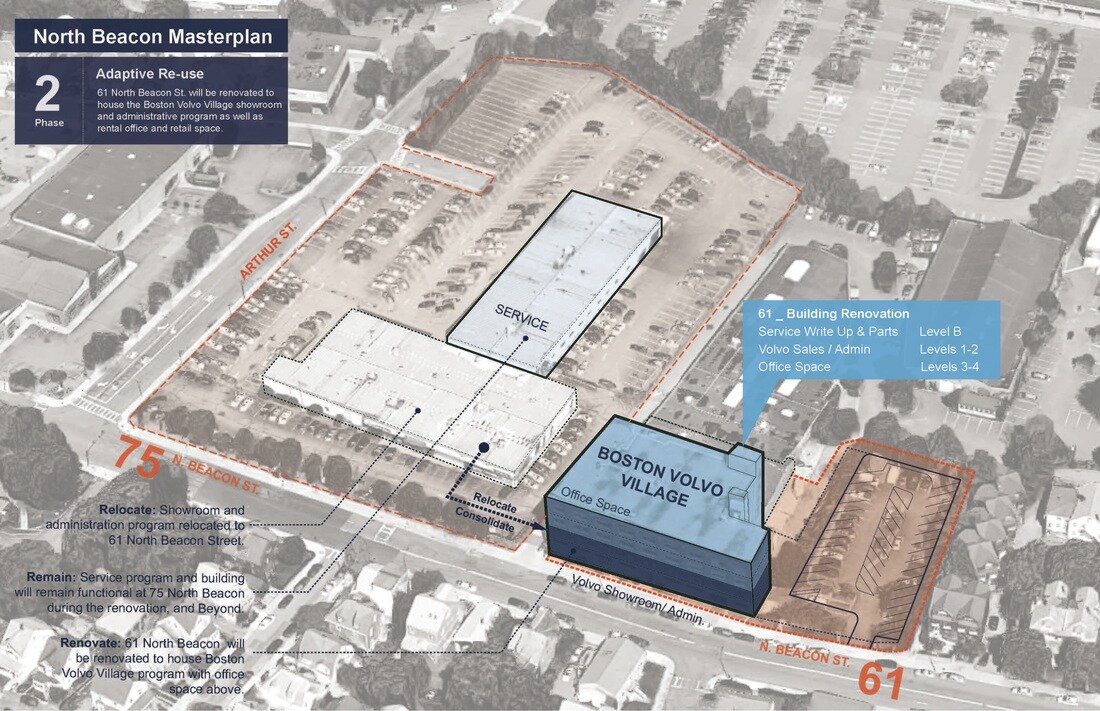 So to match our evolving neighborhood, do our brand justice and most importantly serve our customers, we are proud to announce that a brand new Boston Volvo is in the works for 2017! The design details are being finalized, but the plan is to renovate the property next door to us at 61 N Beacon Street into the most unique and modern Volvo dealership in America.
Many will remember 61 N Beacon Street as the world headquarters/outlet store for New Balance, prior to their moving down the road to Guest Street. The brick structure was quite-solidly built in 1925 as the New England regional headquarters for the International Harvester Company, which for those who don't know produced farm equipment and heavy equipment for a growing America. 61 N Beacon features an attractive, red brick facade with original architectural details such as stone lintels, cornice, and arched windows. Our plan is to restore this historical building to its former glory.