We here at Boston Volvo are proud to have on hand a rare piece of artistry, representing 2 great Scandinavian brands: Volvo and Lego!  When you visit us here in Allston/Brighton, be sure and take a look at the full-sized Volvo XC90 constructed out of Legos.  It comes to us via our friends at Volvo USA and LEGOLAND, and we are honored to have it on hand for a limited time.
Between our Lego masterpiece, our kids play area, and our customer Wi-Fi, bringing your kids while you shop for a car or while you wait to get your car repaired doesn't have to be a painful experience!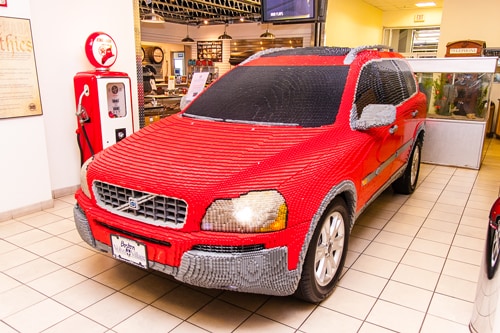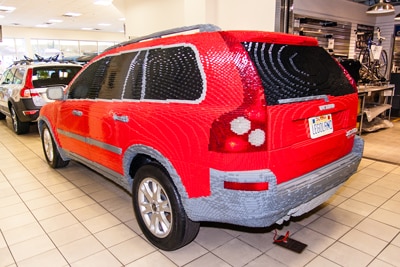 LEGO XC90 F.A.Q

How much does it weigh?

It weighs 2,930 pounds. The LEGO XC90 is hollow!


How long did it take to build?

It took a team of 3 LEGO designers 3 weeks to design the LEGO XC90. It took an average of 5 LEGO model builders 2 months to build the LEGO XC90. The project started in July of 2004 and was completed in September of 2004.


How was it built?

It was built on an actual Volvo XC90 frame, to the exact specifications of a real Volvo XC90, one brick at a time, using only bricks that LEGO makes for everyday use by children of all ages.


Where was it built?

It was built at the LEGO North American offices in Enfield, CT.


How many LEGO bricks did it take to build the LEGO XC90?

It took 201,425 LEGO bricks to build the LEGO XC90!